A View from the Bridge - June 2015
As one European country (Iceland) phases out capital controls as it emerges from the 2007/2008 financial crisis and the failure of its banking system, another imposes capital controls and faces the prospect of one or more of its banks failing depending on the decisions to be taken by the ECB. With Greece having defaulted on its month end payment to the IMF, the ECB theoretically has to take this default into account and apply larger discounts or haircuts to the Greek government bonds that it holds as security for the money (€89bn) it is lending to the Greek banks. Technically this could cause one or more of the banks to default before the referendum on Sunday however given the political ramifications, it is highly likely that an ECB "fudge" will be found to avert this scenario, or…….the Greek government will have to back down!!
Despite the political turmoil in the Eurozone, the growth rate for Q1 has been confirmed as 0.4% and the ECB has forecast annual growth of 1.5%, rising to 1.9% in 2016. Manufacturing growth expectations have increased primarily in Spain and Italy as their economies continue to show signs of growth and in France the data suggests the economy expanding for the first time in 14 months. The ECB has kept rates at the current lows and has forecast inflation rising from the current 0.2% to 0.3% for 2015 and 1.5% in 2016.
In the UK the Office for National Statistics (ONS) said Q1 GDP figures have been revised upwards to 0.4% and to 2.9% from 2.4% for 2015. Inflation has moved back into positive territory at 0.1% and the forecast remains the same for the end of 2015 at 1.8%. With consumer confidence at its highest for 15 years, UK mortgage lending rising after the election and incomes rising in Q1 at their fastest rate since 2001 some members of the Bank of England MPC may look to vote for a rise in rates sooner rather than later. That said, the ONS has also estimated that the UK's current account deficit will rise to 5.9% of GDP, its largest since records began in 1948 and that the strength of GBP versus the Euro will continue to suppress the level of our exports.
US industrial output also continues to be hampered by a strong currency with output down by 0.2% in June however, with consumer spending jumping the highest in 14 months by 1.2%, a further 280,000 jobs being added and core inflation dropping 0.1% to 1.72% the US economy looks set for growth in Q2 and on course for the predicted interest rate rise in September 2015.
Despite the positive signs for growth in Europe, the UK and US, the OECD has cut its global growth forecast for 2015 to 3.1% from 4% and for 2016 to 3.8% from 4.3%. This is based on their view that we are in a low growth phase caused by low investment, high unemployment, low productivity and low wage growth. This lack of investment is reflected in the record level of M&A activity we are seeing on both sides of the Atlantic as CEOs see more value in extracting cost savings from a merger than they do in investing in their own companies!
The GBP markets continued sideways in near term rates: 3mth closed at 0.58% (+1bp) and 6mth closed at 0.74% (+3bp). Fixed Term rates (longer than 1 year) moved higher: 5 Years closed at 1.72% (+21bp), 10 years closed at 2.16% (+25bp), 20 years closed at 2.38% (+22bp) and 30 years closed at 2.36% (+18bp)
UK Government Bond yields also moved higher: The 10 year UK Gilt Benchmark closed at a yield of 2.02% (+21bp) and the 30 year UK Gilt Benchmark closed at a yield of 2.72% (+18bp).
GBP future inflation expectations expressed through 20 year Inflation Swaps ended higher on the month, opening at the low of 3.44%, a high of 3.56% and closing at 3.488%.
In the Foreign Exchange Market GBP was higher against the USD$ at 1.5712 (1.5291) and higher against the EURO at 1.4103 (1.3919)
This months Graph of the Month shows the historical movements of the cost (USD$ Annual Percentage) of 1 Year Greek Government Credit Default Swaps - ISDA have not categorised the IMF non-payment as a credit event.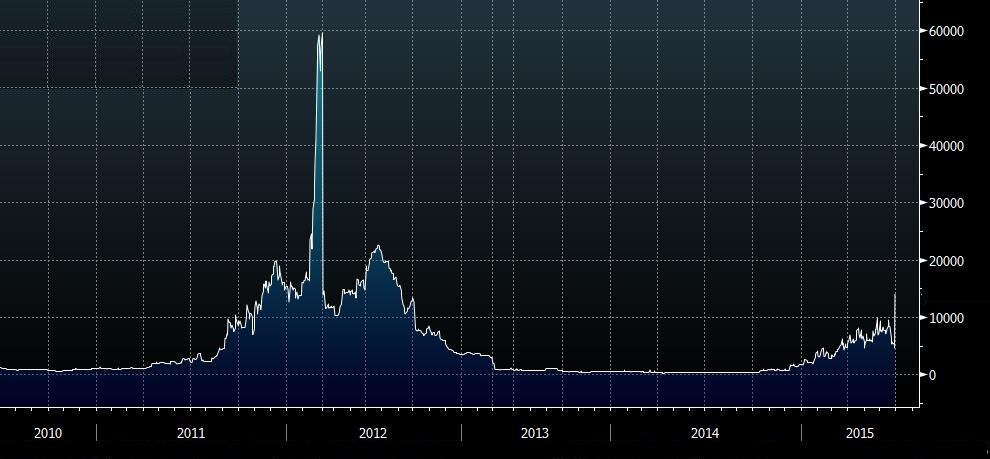 PegasusCapital - 01/07/2015
Whitepapers / Articles
The risks of a deflationary outcome remain very elevated. Our understanding of likely household responses is becoming more informed, particularly with regard to genuine uncertainty, precautionary savings balances being built (where possible) and the likely consolidation of credit related debt. Turning the tide on the risk of viral infection and saving lives is the driving policy of government, but by definition this just pushes another rising tide of shrinking demand onto the economy.
PegasusCapital - 07/05/2020